ZigZag Uses Amzi! and Lotus to Help You Find Anything on the Internet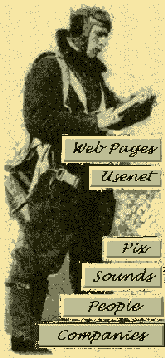 ZigZag has built Ziggy the Navigator to help Web users find and use the best Internet search services for the particular type of media they are seeking. Ziggy supports finding people, companies, pictures, sounds, and usenet. Their mission is to greatly reduce the amount of time people spend searching Internet by recommending only the most appropriate search services and directories of information, and by presenting all those tools on a single uniform page.
The heart of the system is Lotus' Domino Web server with a comprehensive Lotus Notes database of the many Internet searching services and directories of information. For each service or directory, this database describes what things it is good at looking for, how to interface with it, and the formats of the resulting output.
ZigZag has developed a clever LotusScript and Amzi! Prolog program that analyzes Notes databases to generate WebLS rules. Notes provides the hierarchical structure, and Prolog reasons over the database and assists in the construction of the WebLS rules, regardless of the database format.
The WebLS rules comprise the intelligent user interface (appropriately called "Ziggy Express") that asks Web searchers what they are looking for via Web forms. The rules match your needs (entered in the forms) and then display only the search services that are the most appropriate. This intelligent interface is dynamically generated anytime the underlying Notes database is updated, thereby providing the most up-to-date information in real time.
ZigZag is working on a generalisation of this scheme which will enable web users to create and maintain Lotus Notes Databases from which WebLS knowledge bases can be automatically generated.
http://www.zigzag.co.uk/
ZigZag Internet
---
---
Copyright ©1995-2006 Amzi! inc. All Rights Reserved. Privacy Policy.
Amzi!, KnowledgeWright and WebLS are registered trademarks and Adventure in Prolog, Logic Server, Logic Explorer, Adventure in Prolog and Subscription Plus are trademarks of Amzi! inc.